EARTHSPAN
Earthspan is a not-for-profit, non-governmental organization created by concerned scientists dedicated to the continued development and application of advanced technologies for the conservation and management of wildlife species, habitats, ecosystems, and public health. Earthspan develops and tests wildlife tracking technologies, conducts wildlife conservation research projects, and seeks to educate school children of all ages about these issues through curriculum offerings and teacher training workshops/courses.
Sign Up to Receive Earthspan's e-Newsletter
Please fill out our e-Newsletter registration form (minimal information requested) to receive periodic information and updates about Earthspan and our projects. Read the January 2006 Edition of the Earthspan Bulletin (700K PDF) Earthspan Bulletin Jan 2006 First Page (300K PDF)
Professional Development Workshop for Science Teachers at Hawk Mountain Sanctuary:
Bringing Wildlife Conservation Research and Technology to Your Classroom
Study Migrating Raptors
• Participate in research with scientists from around the world
• Use GIS, Remote Sensing and Satellite Tracking Technologies
• Deepen content knowledge of ecology, animal behavior, and conservation biology
• Receive "Eye of the Falcon Environmental Science Curriculum" free of charge
Download the Workshop Brochure (375KB) Download Registration Form (35KB MS Word format)
Download Registration Form (55KB Adobe Acrobat PDF Format)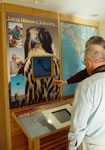 Earthspan Develops Kiosk for Chincoteague National Wildlife Refuge Earthspan developed an interactive kiosk highlighting the migration of peregrine falcons through the refuge each fall. The kiosk was installed in the refuge's new Herbert H. Bateman Educational and Administrative Center when it opened in October 2003. If you have seen the kiosk at the refuge and want to check on the progress of the two birds currently being tracked, please visit the current map. Current Map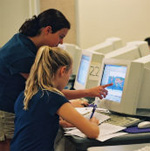 Eye of the Falcon Educational Program
Learn about Earthspan's Educational program called Eye of the Falcon, currently being implemented in schools across the nation. Eye of the Falcon is an inquiry based, environmental science curriculum for middle school and high school students. The curriculum features satellite tracking data from migratory species world-wide. Earthspan offers teacher workshops and courses as part of the Eye of the Falcon Program.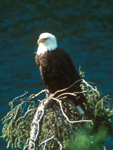 Chesapeake Bay Bald Eagle Project
Earthspan is continuing to satellite track four rehabilitated immature Bald Eagles that were injured in an industrial facility. Visit our Eagle Project page for more information and maps of the eagles' movements. Or download this Eagle Project Brochure in PDF format!
Current Map
Crossband Transponder: A System for Tracking and Monitoring Small Birds and Bats
Earthspan is working under a National Science Foundation grant to develop a new system that can track and monitor small birds and bats for multiple years.
To contact Earthspan please send an e-mail to [email protected] or [email protected]